QLED Alliance Kicks Off in Beijing
Last week, the China Electronics Chamber of Commerce (CECC) kicked off the first QLED International Forum in Beijing, China. The CECC, which is a bit like China's CTA, brought together a group of leading TV manufacturers, supply chain partners and retailers to form an alliance with the goal of growing the worldwide market for QLED TVs.
Headlining the event were three of the world's top four TV brands: Samsung, Hisense and TCL. Each TV company committed to developing the QLED TV category and received an award for their current contributions to the QLED TV market.
Nanosys, the Quantum Dot company, joined to give an in-depth talk on the history of quantum dot technology, it's journey from the lab to today's QLED TVs and provide a look at where it's heading next.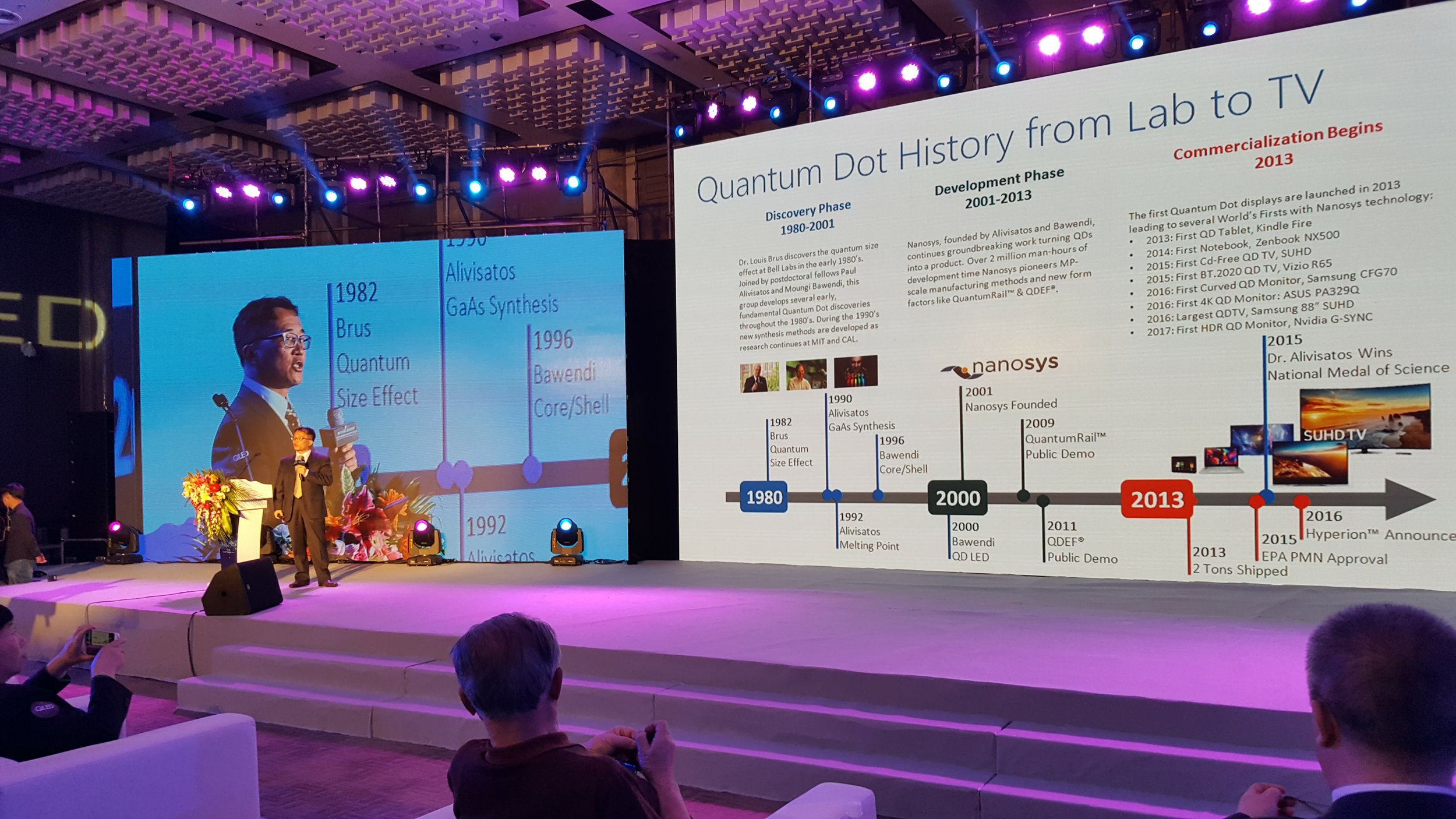 According to Dr. ZhongSheng Luo, Nanosys China General Manager, Quantum Dots were first discovered at Bell Labs in the early 1980's. That means today's QLED TVs are the result of 35 years of research and development effort. But quantum dots are just getting started. Nanosys is working on new quantum dot color filter replacement and emissive display technologies that will bring gains in energy efficiency, contrast and viewing angle to the QLED TVs of the future.
During the opening address, CECC Vice Chairman Liu Yufeng said that he expects sales of QLED TVs to reach 6 million units in 2017 and predicted that number could triple by 2018, exceeding 18 million units.
The TV manufacturers in attendance also signed contracts with China's top five retailers, including GOME Electrical Appliances, Suning Commerce Group, JD.com, Five Star and Sundan to help drive QLED adoption. Their goal is to ship 10 billion RMB, or about $1.5B US, in QLED TVs in China.
The event also featured an exhibition hall, which included exhibits on QLED TV from Samsung, Hisense and TCL, quantum dot LEDs for lighting, quantum dot films, examples of the technology's biomedical applications, and other ways quantum dots can be used in everyday life.