Nanosys Wins "People's Choice" Award at DisplayWeek 2019
Quantum Dot Theater
Welcome to the Nanosys Theater at SID DisplayWeek 2019. The glowing red "Theater" text in this sign is made of Nanosys BT.2020 Quantum Dots.
Busy Booth
The Nanosys booth was buzzing all week.
People's Choice Award
The SID DisplayWeek 2019 People's Choice Award ribbon presentation from SID Executive Director Tony Caldwell (far Left) and SID Chair Aris Silzars (far right).
ULED XD
Jim Ninesling of Hisense and Russell Kempt of Nanosys were interviewed at the booth by Charbax. Here, Jim is describing how Hisense's innovative ULED XD Dual Cell LCD TV works.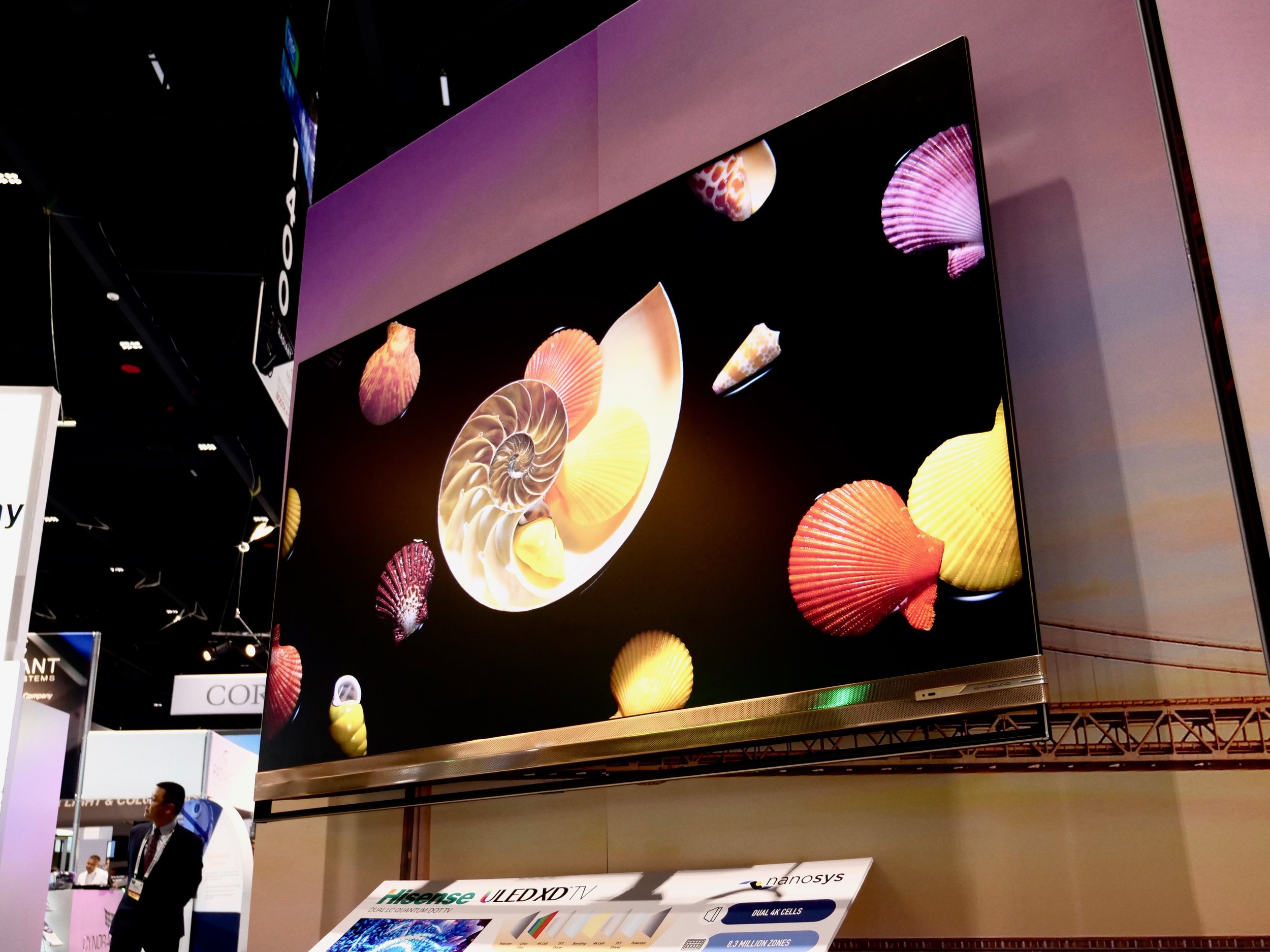 Inky Blacks
A close-up look at the inky blacks on the Hisense ULED XD dual-cell LCD prototype. This display uses two LC panels to increase contrast by 100x. It also uses Quantum Dots for brilliant color and luminance.
Vizio P Quantum X
A group of visitors checking out the pre-release preview of Vizio's P Quantum X 2019 Quantum Dot flagship TV inside our theater. Also showing here real-time HDR content analysis courtesy of AJA Video systems.
Samsung Q900 8K Quantum Dot
16 times higher resolution than HD with Quantum Dot color and a massively immersive 82" format.
Immersive Gaming
Gaming in wide color gamut with Nanosys 100% heavy metal free Quantum Dots on HP's Omen X Emperium.
Now shipping
Hisense H9F 65" delivers a premium experience with 1,000 nits peak luminance and Quantum Dot color. It will be available for less than $1,000 starting in June.
People's Choice Award
Nanosys was awarded with the People's Choice Award for Best Large Booth. A huge honor, thank you to everyone who voted!
BOE QD Notebook
There were some great Quantum Dot demos outside the Nanosys booth. Here, BOE is showing off a full-array local dimming notebook using Nanosys Heavy Metal Free Quantum Dots for fantastic color and contrast.
AUO Gaming Monitor
AUO's >1,000 zone monitor with Quantum Dots from Nanosys.